Shopoftheworld - The eBay stuff you want
Product detail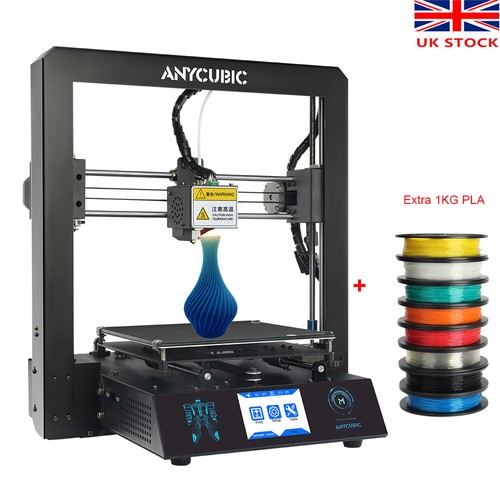 UK ANYCUBIC FDM 3D Printer Kit I3 MEGA Full-Metal Ultrabase + 2KG PLA Filament
Current price
£205.00 Buy it now price £0.00
Bids
0, met reserve
Time left
27 days 6 hours
0 mins 51 secs
Seller (score) Feedback %
anycubic68 (1302) 99.7%
Seller location
GBSouthall, Middlesex
Ships to
GB
Condition
New - 1000
Description
UK ANYCUBIC FDM 3D Printer Kit I3 MEGA Full-Metal Ultrabase + 2KG PLA Filament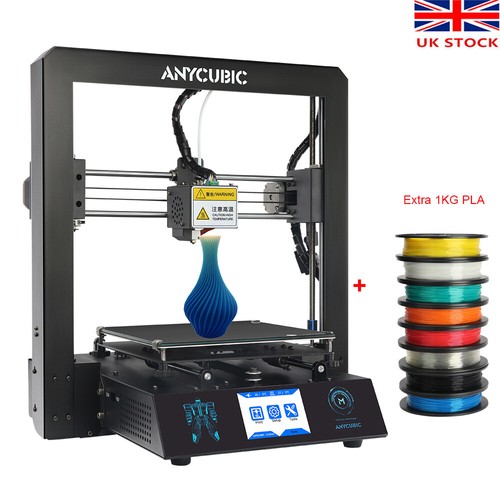 Product Description
UK ANYCUBIC FDM 3D Printer I3 MEGA Full Metal Ultrabase 3.5"TFT+ 2KG PLA 1.75mm
ANYCUBIC I3 MEGA 3D Printer:
Technical specifications:
Printing Technology: FDM (Fused Deposition Modeling) / Layer Resolution: 0.05-0.3mm / Positioning Accuracy: X / Y 0.01mm Z 0.002mm / Printing Speed: 20 ~ 100mm / s (Recommended Speed 60%) / Traveling Speed: 150mm / s / Nozzle diameter: 0.4mm / extruder Quantity: 1 / Support Printing Materials: PLA, ABS, HIPS, WOOD / Size: 210 x 210 x 205mm /
Temperature:
Operating Pressure Bed Temperature: 80 ° C-100 ° C Max / Operational Extruder: 260 ° C / Ambient Temperature Operating Temperature: 8 ° C - 40 ° C /
Software:
Input formats: .STL, OBJ, .DAE, .AMF / Slicer: Cura / Cura Output formats: G-Code / Connectivity: SD card and USB support /
Electrical:
Input power: 100-240V AC, 50 / 60Hz, 1.5A
Dimensions:
Printer dimensions: 405 x 410 x 453mm
Package weight: 10kg
1, We accept PayPal payment only.

2,
Payment must be within 8 days after you ordered the item.
1.We cannot arrange shipments on weekend or public holidays.
2.Your orders will be shipped out within 2 business days after payment received.
3.Please be advised that the international delivery time highly depends on your local customs and post services policy.
4.We can ship your orders only to your confirmed Paypal address. Your address and full name on Paypal must match your shipping address. Please make sure payment address in PayPal is correct.
5.Please feel free to contact if you would like the DHL or Fedex shipping. And pay attention to the custom policy, we do not undertake the tariff, hope for your kindly understanding.
6.Please NOTE that seller will not pay the local customs cost when the package arrive destination country.
1.The returns should be returned with our original packages.
2.Defective products must be returned within 30 days.
3.Customers must contact us first for the return address.
4.In all cases, buyers pay for the shipping fees at their own cost to return products for exchange or refund. We will be responsible for the postage of replacements.
5.Please kindly feel free to contact us first, if you receive the items with quality problems or damaged, we would like to offer replacement or refund service for you.
Who are we?
Founded in 2015, Anycubic has become one of the most popular 3D printer brands in the market, with around 300 employees based in Shenzhen, China.But, we didn't start fancy as it seems to look today.
"Graduated in 2015, I came back to China from New Zealand. I was so excited and full of curiosity when landed in Shenzhen the first time", Mr. James Ouyang, co-founder of Anycubic and a Ph.D of University of Auckland said. "Lu Ouyang, Anycubic's Founder and CEO, is my childhood friend. He had a company before Anycubic providing electronic modules and 3D printer accessories for over 4 years." "3D printer itself wasn't our first choice. We hadn't even had the confidence to rush in. But after seeing clients increasingly relying on us for key components of their DIY printers, We realized we could do it, and do it much better."
"I didn't think much but only hope to explore more possibilities with the 3D printing technology. There is nothing to be afraid of. So why not make a difference." Ouyang added.
In 2015, Anycubic was founded, without much hesitation.
"Following our heart is important. But the real world is harsh. There were so many up and downs. We cannot remember how many sleepless nights out there at the early stage." Anycubic founders said. After a whole year's hard work, the first model Anycubic Mega came on board in 2016. Fortunately our work paid off. Mega became so popular in the market in a short period of time and our journey as a professional 3D printer maker officially started. We all were amazed and excited but we did not stop there. The second and third generations were launched soon after along the way.
3Dream, for freedom to make
Indeed, 3D printing technologies can do a lot. But first of all we believe 3D printers should be accessible and affordable to all instead of being rocket science and beyond budget. We believe each one of us deserves the freedom to make our ideas, creativity and imagination a reality. Anycubic is committed to being one of the best choices for freedom to make.
Side by side with you, we know we will make it.

1.Your better feedback will be an encouragement for us to offer the better quality and the better service in future.
2.If you are not satisfied with them, please contact us first via Contact Seller. Your messages will be answered within 1-2 business day. We shall try our best to solve your problem to your satisfaction.