Shopoftheworld - The eBay stuff you want
Product detail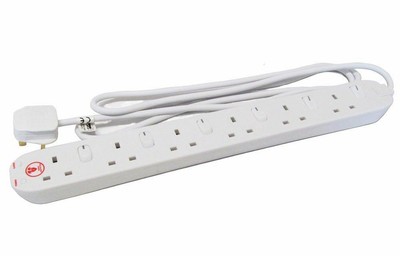 Masterplug Surge Protected 6 Way Gang, Switched,2m Extension Lead Cable SWSRG62N
Current price
£13.00 Buy it now price £0.00
Bids
0, met reserve
Time left
0 days 22 hours
49 mins 41 secs
Seller (score) Feedback %
beststuff_co_uk (53895) 99.9%
Seller location
GBKineton, Warwickshire
Ships to
GB
Condition
New - 1000
Description
Masterplug Surge Protected 6 Way Gang, Switched,2m Extension Lead Cable SWSRG62N
---
Click on the Image to Enlarge
zoom_in
---
DESCRIPTION
This Masterplug, 6 socket, 2m surge protected extension lead is ideal for use with a multitude of computer and AV equipment. The in-built surge protection is designed to protect delicate electrical equipment from electrical surges and spikes. Also, because every socket is individually switched, the Masterplug SWSRG62N-MP is also much more convenient to use than most of its rivals.

You can connect up to six mains-powered devices to a single socket with this Masterplug 6 Way Power Bar Surge Protected Extension Lead. The Extension Lead has a two metre extension cable and comes with a £1000 manufacturer's guarantee against surge-damage to connected equipment (details on how to register for this are on the packaging). Great around the home or the office, the Masterplug SWSRG62N-MP powers and protects your equipment including home computers, TVs, Home Cinema, printers, monitors or any other valuable devices that need protection from damaging surges and spikes.

Specifications
All six sockets are controlled by their own individual switch

Each switch has a power light, so it's easy to see at a glance which switches are active

Maximum Surge Energy 375 Joules

Maximum Current 13500 Amps

Clamping Voltage 775 Volts

Response Time <10nS

3 Channel Protection

Thermal Cut-out

Surge Neon Indicator
We only accept PayPal on eBay,this means you can rest assured your order will be with you ASAP after your purchase. For your security we only despatch your order to the address you provide us via eBay.
We use the Royal Mail, DPD, ParcelForce or UPS for all our deliveries. Which service we use depends on the size, weight and value of the items ordered and also on the delivery location and the service type selected at checkout.
30 Day Promise
All goods may be returned to BestStuff for a period of up to 30 days of their receipt for a full refund if you are not completely satisfied. This promise is upon condition that the goods are complete,have been used solely in accordance with the manufacturer\'s instruction literature,that the goods have not been subject to misuse or accident or been modified or repaired by anyone other than an employee or authorised agent of BestStuff. In the unlikely event of goods supplied being faulty,they should be properly packed and returned immediately to BestStuff via Royal Mail,Parcel Force or a reputable carrier of your choice. This applies to goods are supplied to UK and Republic Of Ireland addresses only,this promise only applies to residents of the UK or the Republic Of Ireland. This promise is offered as an extra benefit and does not affect your legal rights

If you need more information about this item,please either use the "Contact Seller" link.

Alternatively,you can phone us: (lines open 9am - 5pm Monday to Friday).