Shopoftheworld - The eBay stuff you want
Product detail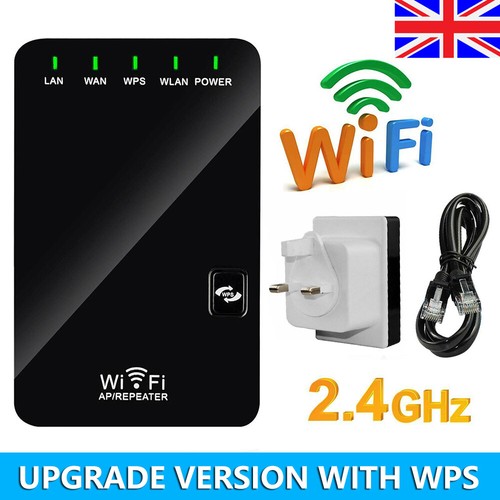 300Mbps WiFi Wireless Repeater Extender Signal Booster Router Range Home Network
Current price
£9.00 Buy it now price £0.00
Bids
0, met reserve
Time left
6 days 20 hours
16 mins 15 secs
Seller (score) Feedback %
alipine (6101) 99.1%
Seller location
GBSalford
Ships to
GB
Condition
New - 1000
Description
300Mbps WiFi Router Wireless Repeater Range Extender Signal Booster + RJ45 Cable
Product Description
Overview :
This is the latest full function wireless WiFi adapter/Router , it can be function as wireless WiFi repeater , WiFi router , WiFi AP , WiFi bridge/Client. The Wireless-N Repeater is mainly used for providing free WiFi service in big area such as factory , community , office or home etc. It complies with the IEEE 802.11n standard with wireless transmission speeds of up to 300Mbps. easy to extends the range of your WiFi network , no worry about the obstcal weaken the WiFi signal , Feel free to access wireless network via your tablet PC , laptop , smart phone anywhere.
This full function WiFi router/Repeater is a solid choice for people with always-moving network needs in search of a fast , secure , easy-to-use , and feature-rich wireless network. furthermore , it is convenience to make your IP device such as STB , iPTV , IP Camera to become wireless connection to your router , or change the wire router become a wireless access point , universal function , all in ones.

Features:
Wireless AP , Router , repeater , and Firewall.
Supported working modes : AP , Router , Client , Bridge , wireless repeater.
Complies with IEEE 802.11n , IEEE 802.11g , IEEE 802.11b , IEEE 802.3 , and IEEE 802.3u standards.
Double the transmission range of 802.11g products.
Provides 300Mbps transmission rates..
WPS (PBC and PIN) enabled device.
Meets 64/128-bit WEP , WPA , and WPA2 security standards.
Setup wizard for fast and easy configurations.
Provides dual 10 / 100Mbps Auto-Negotiation Ethernet LAN / WAN port.
Supports XDSL / cable modem static , dynamic , and PP POE connections.
Extend the wireless coverage in all WLAN networks.
Provides one 10 / 100Mbps Auto-Negotiation Ethernet LAN ports.
Support 2.4 GHz WLAN networks.
Support WPS function.
Application: It supports Wireless AP , Router , and Firewall , Supported working modes : AP , Client + AP , WDS + AP , WISP , and


Wireless Router :
Wireless AP Mode : This AP model is wireless Access Point (AP) in which it can convert the wired signal into wireless WiFi signals , Application : Connect the smart WiFi router/repeater to the hotel/home room broadband interface with network cable (or wired router at home) , you can share the wireless network with others , that means , you can create a new WiFi area , and full WiFi coverage in your room , your computer can automatically obtains the iP address , convenience for you to using smart phone , tablet PC or laptop with signal network cable only , Plug and Play.

WiFi Repeater mode :
In repeater mode,it will expend the WiFi coverage of your current network and enhance the strength of the WiFi signal , configure this WiFi repeater on your PC firstly , make a wireless connection to your current WiFi router , and then placing this WiFi repeater/router on the area with weak WiFi signal.

Wireless Bridge / Client mode :
In this mode , you can make your iP device such as sky hd box , dream box , iPTV , iP Camera Anytiem+ PS3 STB Become wireless connection to the wireless router , convenience for you to put the iP device anywhere , no worried network cable installation , it comes with TWO rj45 port , will allow you connected up to TWO iP device wireless to your current WiFi network , Furthermore , the WiFi router/repeater work as a repeater to extend the WiFi signal to larger range and enhance the WiFi signal strength , sharing internet with more device such as smart phone , tablet PC , laptop.

Wireless + Wired Router Mode :
In this mode , Just connect the WiFi Router to a ADSL modem , the WiFi router can be used as a wireless + wired router to share the wireless internet with more device such as smart phone , tablet PC , laptop , furthermore , it work will also work as a wired router , you can connect a RJ45 network cable to the WLAN port of the router.

Specifications :
Frequency Range : 2.4Ghz
Wireless Transmit power : 14 ~17 dBm (Typical)
Power Supply : 100V-240V AC
Wireless Rate :
11n : Up to 300Mbps (Dynamic)
150Mbps 11g : Up to 54Mbps (Dynamic)
11b : Up to 11Mbps (Dynamic)
Support Model :
LAN / WAN
AP / Client + AP / WDS + AP / WISP Router / Wireless Router / WPS
Wan Type :
Dynamic IP / Static IP / PP POE / PPTP / L2TP
Dynamic Dns : Dyndns , Tzo
Receiver Sensitivity :
300M : – 68dBm@10% Per
150M : – 68dBm@10% Per
108M : – 68dBm@10% Per
54M : – 68dBm@10% Per
11M : – 85dBm@8% Per
6M : – 88dBm@10% Per
1M : – 90dBm@8% Per
Led Indicator : Power , WLAN , LAN , WAN , WPS


Package Including :
1 x Wireless WiFi Extender Repeater/Router
1 x RJ-45 Network Cable
1 x User Manual
We accept PAYPAL only for safety

and easy.
We will ship the item within 1-3 business days from Spain after clearance of payment according to the paid date.
We only ship to confirmed order addresses. Your order address MUST MATCH your Shipping address. Thanks for your attension.

We accept the eBay return policy of 30 days and money back.
All shipping and handing charges are non-refundable.
Return delivery costs are the responsibility of the buyer. We will cover the cost if sending replacement/repaired items.
We strive for 100% customer satisfaction.
Communication is important. Please message us for any problems and solutions. We promise to reply you within 24 business hours.
Please kindly message us if there is any problem before leaving negative feedback, thank you for your kindness in advance!