Shopoftheworld - The eBay stuff you want
Product detail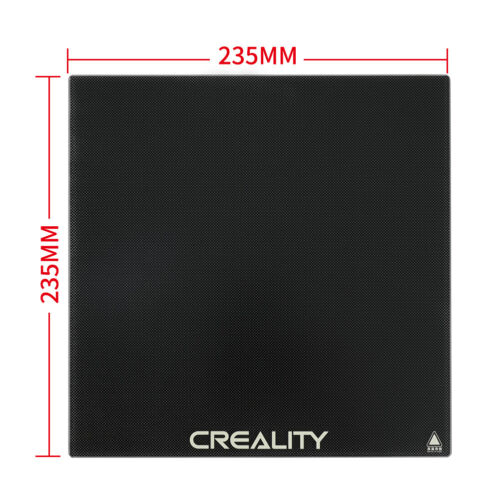 Creality 3D 235X235mm Glass Print Heat Bed Plate for Ender 3/5 Pro 3D Printer
Current price
£26.00 Buy it now price £0.00
Bids
0, met reserve
Time left
2 days 19 hours
53 mins 38 secs
Seller (score) Feedback %
3d-printer-online (3262) 98.8%
Seller location
GBGlenfield
Ships to
GB
Condition
New - 1000
Description
Creality 3D 235mm X 235mm Borosilicate Glass Heat Bed Plate for Ender 3 Printer
Product Description
Product Characteristics
1.Leveling: Use A4 paper to adjust to the platform and the nozzle till there is obvious hindrance, but to be able to pull.
2.Oily Clean: Severe oil on the surface of the platform will affect adhesion,if this happened, please heat the bed to 90℃, or put the printer aways for 8 hours, but the most direct way is to wipe a little with alcohol.
3.This product acid and alkali resistant, high temperature resistance 400℃.
4.The first layer of the product has a hardness of 0.5H, which is easier to be scratched, but the scratching does not affect the adhesion of the models.
5.This product will change color when rubbed repeatedly with alcohol, but will not affect normal use.
6.This product will enhance the viscosity and absorb oil ability of the platform after being slightly wiped with alcohol.
7.Try to avoid repeated touches on the platform by hand to prevent serious sweat from touching the platform.
8.This product is processed with a special process and will never appear in the glass, good solution to the problem of platform unevenness.
Temperature settings for different filaments:
PLA:50-70ºC
Flexible filament: 50-70ºC
ABS:100-125ºC (110ºCis recommended)
PC:100-130ºC (120ºC is recommended)
Nelon:90-120ºC (110ºC is recommended)
PP:100-130ºC (120 ºC is recommended)
PETG: 50-70ºC
Specification:
Material:Special Glass + microporous coatings
Item size:235*235*4mm
Box size: 360*350*40mm
Shipping from UK with tracking number.
30 day returns Guaranteed.
We only sell Genuine Creality 3D Printer with Brand logo and model on any component.
If you have any problems and suggestion about our products and service,please feel free to contact us at any time through eBay messages,we can help you out by all means.